Risk Analysis
Bercha Group risk analysis applications have been developed to improve public and personnel safety. In a recent study carried out for the EUB, results from time trials were used to validate computer modeling of sour gas scenarios.

Engineering
The Bercha Group has been involved in numerous engineering projects since 1975. Dr. Bercha's engineering work in the Arctic inspired this oil painting.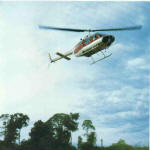 Geomatics
This remote sensing helicopter was part of a laser topographic mapping project carried out in Indonesia.

Escape, Evacuation, and Rescue
The Bercha Group, with its unique and specialized risk analysis and engineering expertise, has ongoing involvement in Escape, Evacuation, and Rescue (EER) research, technology, and standards development for the Arctic offshore.